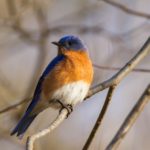 Completing a late afternoon stroll in the Barkpeelings. Lounging on a moss sofa, listening to the chorus. Observations on the Cowbirds' egg-depositing-deception and dereliction of parenting duty.
Click the links below for details about the bird vocalizations used in this episode from the Macaulay Library at the Cornell Lab of Ornithology:
Intro music: Kai Engel Walking Barefoot on Grass
The Creative Commons and public domain contains a wealth of images, music and more. The images used in these show notes link back to the contributors.