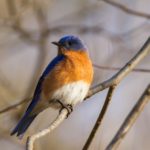 The start of Wake-Robin, chapter 2, In the Hemlocks. Author and gentleman rambler, John Burroughs, begins a guided tour in the hemlocks. Years before, townsfolk, tanners, and lumbermen attempted in vain to tame and exploit the grove. But nature proved uncooperative and the effort abandoned. By his account, the spirit and energy of the wilderness repaired and rejuvenated the injuries and offer refuge to all. We meet the Red-eyed Vireo and hear his contented song. For Burroughs, the Bobolink's song expresses hilarity; the Sparrow's, faith; the Bluebird's, love; the Catbird's, pride, White-eyed Vireo, self-consciousness; the Hermit Thrush's, spiritual solemnity: the Robin's, a military tone.
In-depth reviews of the Snowbird and Winter Wren's song and demeanor, the Veery's mellow expression, the unfortunately named Blackburnian Warbler and the Northern Parula.
The Creative Commons and public domain contains a wealth of images, music and more. The images used in these show notes link back to the contributors.