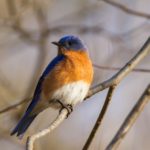 It's the best time of the year. The parade begins. As Winter retreats Spring leans in. The birds are returning. And so is our show. 
Return of the birds is the serialized audiobook podcast of the nature study, Wake Robin, by John Burroughs. It's the best story about birds I've ever read out loud.
The podcast combines Burroughs's anticipation and delight that the birds bring to the changing seasons with field recordings of the bird songs he so accurately describes woven into the narration.
First published in 1871, Return of the Birds is a podcast 149 years in the making.
Come join the gentleman rambler on the shady trails of the Catskills, the Adirondacks and the fields and farms around the nation's Capitol. 
Return of the Birds is 18-episodes. You can binge the first edition now or enjoy the weekly episodes of this new, second edition as they're released.